Jamboree Creek Yoga is an eco-farm homestay that hosts yoga retreats, yoga groups and yoga teacher training. We have a huge organic garden with lots of fruit trees and organic vegetable patches. There is a lot of variety of birds at Jamboree Creek, bees, butterflies in the garden and cats that were born here.
Use the form below to find accommodations most suitable to your requirements.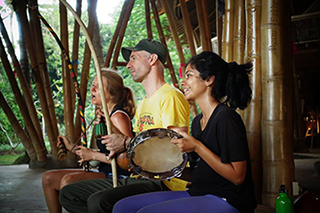 JAMBOREE means a gathering. We hope that we will open new doors for you and add something to your life – whether it's learning to start your own garden or understanding a bit more about how to support the earth that we all rely on to live.
GREEN JAMBOREE
We are endeavoring to turn 'Green' and the focus is on planting trees. The plot on which the resort is situated is being planned to be converted into an eco resort. The turn around has begun as part of the afforestation project.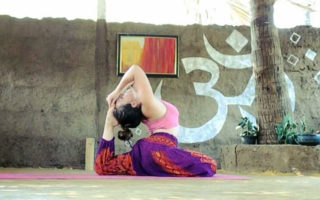 YOGIC JAMBOREE
– Daily yoga classes are given at Jamboree by international teachers of different styles and levels.
– 6 days a week – morning and evening classes. Rs 400 per class per person.
– We also rent/lent the space to yoga groups for teachers training programs and yoga camps, for workshops related to Capoeira, Tai Chi, Art, Acro Yoga and more.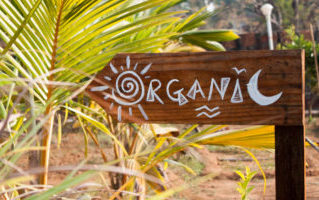 ORGANIC JAMBOREE
Following our 'organic' values, a clean and green kitchen garden has been planted. Start your day with organically home-grown lemongrass tea, fresh fruit from our own trees, and veggies growing on site, to keep you happy, healthy and relaxed.
BEACH CLOSE TO JAMBOREE CREEK
Ashvem beach is a virgin, local beach, located away from the hustle and bustle of beaches like Anjuna or Baga. It is very serene, quiet and in a perfect location for people who want to get away from the routine of everyday life. When in the mood for solitude, head to Ashvem beach, only a five minutes walk from the resort through a private bridge. This is the perfect place for quite moments. Ashvem is also a nesting ground for the endangered Olive Ridley Turtle. Early morning dolphin-spotting boats sail from here, which can be organized by us on request.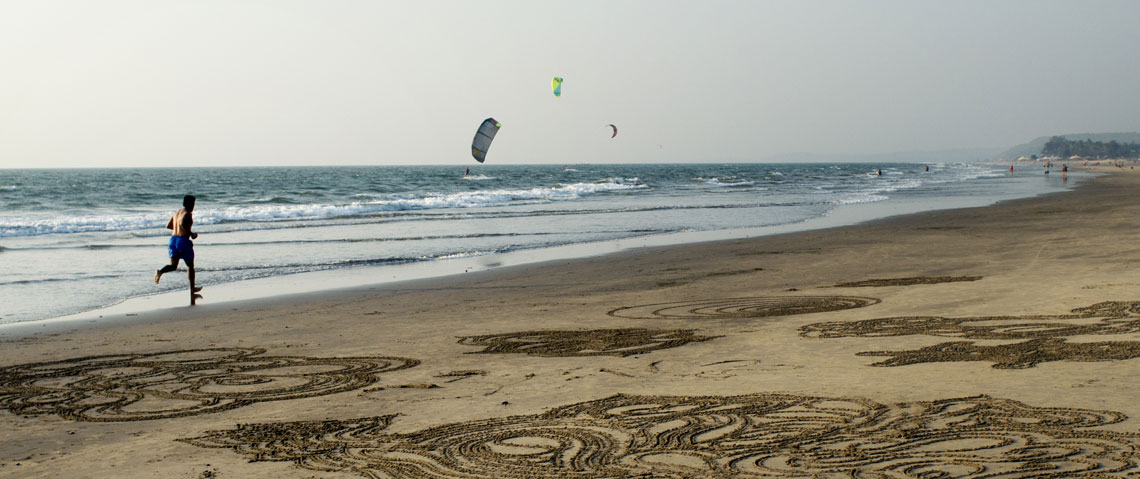 OUR STORY
Jamboree Creek is an initiative of Ms. Priyanka Sharma, a graduate from Taj Institute of Hotel Management, Aurangabad & University of Huddersfield, UK., who left the metropolitan life, moved to a small village in Goa to start this enterprise of "Jamboree Creek" at the age of 21. Her desire being to work with and closer to nature using concept of eco living and permaculture wherever possible. She has been traveling around continents to get ideas and inspiration on how to make holiday a productive and creative way of life for everyone.
Cottages, made of pine wood, have been designed in collaboration with a Dutch and Indian duo (Simrit and Ridha) Permaculture designers and architect which are nestled in serene and lush green location.
You will experience unique open to air showers with mud and oxide walls in the bath perfect for sun bathing and moon gazing.
A French designed swimming pool and a "green" creek side by the pool is a perfect and serene place to spend the starry evenings with a cup of beverage of your choice.!!!
Family and friends have been helping Priyanka a lot over the years to make Jamboree what it is today.
Use the form below to find accommodations most suitable to your requirements.